well this is a poem i wrote,i suck at writting stuff, but i hope u like it.
questions to be answered
where will this path lead me?
will i ever see happines again?
i was happy once
i just dont know what i did wrong
life seems so unfair from my point of view
i dont know whats right or wrong anymore
this might bring a laugh or even a tear
are you there god?
what did i do to make you mad?
i've lost everything i had
the most important things in life
my hope
my faith
even my soul
too much depression
it all seems to be killing me
is there a way out of this nightmare?
when will i die?
so many questions to be answered
but i dont seem to care anymore.
by jesus e.
Untitled
You were so broken, it made
you weak, so i had to put
you out of your misery.
speak for me just like you never
did before...
scream for me just like
you're a fucking whore.
covering cuts and scars,
impersonating to show who
you really are.
i bleed just for
you
cuz you'll need a band aid
to cover your sucking facade.
by April Yoder.
Well, you're tired
And you're dead
Your strength is gone
For him you'd kill
No love in your heart to fulfill
Did he love you just too much?
And now you're cold
But still breathe
Confused out of your mind
You're lost in pain
He now drives you in sane
Did he love you just too much?
Well, you've pushed him away
Crushed your own heart
Got what you wanted
Your words can't replace
The love you waste
Did he love you just too much?

written by: © 2001 Dark Angel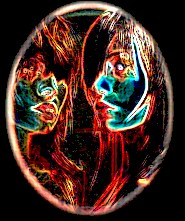 'What to Do?'
I look at myself in the mirror
and scream at my reflection.
Trying to make myself look better.
I hate this deranged obsession.
I cover myself with make-up
and sigh, because it's never good enough.
I grunt and rub my skin raw,
so tired of this bluff.
Not knowing what to do,
I just walk out the door.
When all I really want to do
is lie face-down on the floor.
I trudge outside,
a smile on my face.
I try to erase all of my problem,
rid of them without a trace.
The rain just falls upon my cheek,
like my teardrops do.
Because I'm still looking back
wondering what to do.
-Marilyn Miller
FUNNY UNTITLE POEM BY JOSH P.
this site is just for you,if you have any poems you would like to share send them to me by e-mail
don't forget to write the poem's title and author's name.